Bird's-eye View
Life and Materials Chemistry
This division provides fundamental knowledge and techniques for the design and synthesis of substances with outstanding functionality based on molecular theory, together with analysis and evaluation of such functionality. Learning spans seven disciplines: analytical chemistry, physical chemistry, inorganic chemistry, organic chemistry, polymer chemistry, biochemistry, and chemical engineering. In addition, instruction covers the creation of systems for the control and regeneration of biological functionality.
Soft Materials
The Soft Materials Division aims to develop organic polymer materials that exhibit high performance and functionality. Such soft materials include biomaterials for drug delivery systems; biomimetic materials that reproduce the microstructures found in living organisms; environmentally compatible materials such as biodegradable polymers; functional polymers with applications in information technology (IT), organic electroluminescent elements and photoresists; and self-assembled materials such as proteins and nucleic acids. Through cutting-edge research, the Soft Materials Division intends to cultivate experts who will excel across a spectrum of disciplines in chemistry, materials, and biology.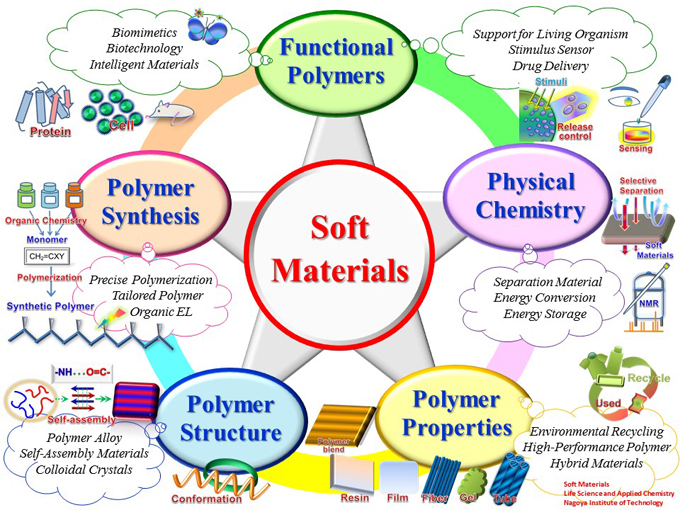 Advanced Ceramics
Ceramics mean artificially-made "Nonmetallic, inorganic and solid materials".
For instance, artificial dental roots and artificial bones in medical field, cutting tools in machining field, fuel batteries as energy, glassware and chinaware in commodities, IC boards, condensers and fiber optics in telecommunication and information field.
Ceramics are one of the closest materials to us.
Materials design, which exceeds levels of nano and macro, enables to develop new materials.
On the axis of ceramics science, students will learn materials structure and function in consideration of environment.
Also students will learn comprehensively how to create those materials.
Ceramics program aims at cultivating human resources capable of constructing environment-friendly ceramics materials science.